Used Portable Guard Shacks for Sale
If you need an enclosed structure for your business, consider buying used guard shacks. Find hundreds of options from dealers near you.

The Swiss Army Knife has been a favorite among knife fans and campers for decades. What makes them so popular? Most people will tell you that it is the versatility that they bring.
They are so much more than a knife, they are a multifunction tool that you can use in the wilderness and around the house.
Guard shacks are like the Swiss Army Knife of portable buildings. You can use them for all sorts of things. They come in many different sizes and have all kinds of special features.
If you are thinking of getting an enclosed structure for your business, read our guard shack buying guide. By the end, we believe you will know why we call it the Swiss Army Knife of buildings.
Decide Your Purpose
If you are thinking about getting a guard shack, obviously you are thinking of some type of purpose. The most likely one is for security, that is what most people think of when they think of guard shacks!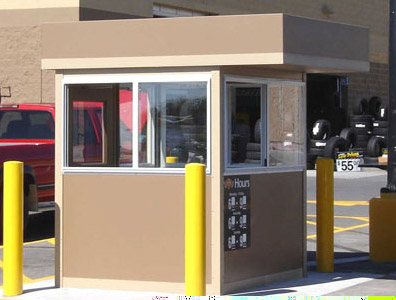 They can provide security, as well as other things, but we will get to that later. The purpose you have to think about is what kind of security are you looking for?
Do you want a guard booth to watch over a construction site or to take tickets at a special event? The types of security you need often tell you what type of shack to get.
There are plenty of guard shack features, but you want to decide what you need it for and the conditions it will be stationed in. If the booth is for 24hr surveillance then the lighting is different from a daytime parking lot booth.
If the security need is for a one-time event, you will want a portable shack that is easily moved. The beauty of a used guard shack is most of them already have the features you are looking for built-in.
Once you decide your purpose, finding the right guard shack is much easier.

Security Options With a Guard Shack
The security options needed for your guard shack start with the main purpose and placement of the shack. A shack built for surveillance should have plenty of glass windows and a high traffic area shack should have multiple doors.
If the placement of the structure is in a high-risk area you will want to consider some high-level security options. There are booths that have bulletproof glass and are blast-proof. These are the types of booths used on military bases.
These features are all available in used guard shacks. You can also find booths that have bulletproof or tempered glass as a security feature.
Lighting is very important if your guard shack will be used at night. A booth in high foot traffic will need tinted windows. This is so your security can look out without being seen.
A guard shack focused on protection from theft or vandalism will have increased external LED spotlights. They will also need a 360-degree view along with screens for video surveillance.
Guard shack costs are often based on what types of guard shack you need and how secure you want it to be.
Other Options With a Guard Shack
Guard shack uses can be as creative as you want them to be. They come in all shapes and sizes and can have multiple uses. They can even be refurbished for different needs based on what your company needs.
Some companies have used them as temporary office spaces, especially for short-term on-location jobs. Construction companies often use them to be the main office on job sites.
Many guard shacks are portable and can be easily used for ticket booths at events that move around. They can also be a gatehouse for private events that are invitation-only.
Developers have bought and used guard shacks as temporary real estate offices. They set them up at the front of new developments and use them to showcase and sell them to customers.
Guard shacks sizing has made them useful for corporations. They have used guard shacks to be the home base for specialized project teams. They have also used them as offices for interns.
Many shacks are large enough to have multiple offices along with all necessary office equipment for a team.
Amenities Available for a Guard Shacks
Guard shacks can be basic or they can have many different amenities based on your needs. If you have security personnel you don't want to leave, you can install restrooms and have running water.
Many shacks come with AC units and baseboard heaters so they can be comfortable no matter the weather. If the shack you need is for traffic control, traffic arm mechanisms can be part of the structure.
The majority of shacks will also come with connections for ethernet and phone lines. This helps your security personnel stay in contact with the building and police if necessary. Plus this opens up office capabilities for any shack.
One of the most creative ways to freshen up a used guard shack is to get a new vinyl wrap put on it. This helps you to brand it with your company and make it stand out to everyone who comes by it.
One Building and Many Uses
Guard shacks are a building with many uses. They really are the Swiss Army Knife of buildings. You find your need and they can help you meet it. Whether it's more security or more office space, the right guard shack can help.
We specialize in guard shacks and all other portable buildings. We believe that that portable buildings can help many different businesses in creative and cost-effective ways.
Contact us and let us walk you through a quote that will fit exactly what you need. We will consult with you on your needs and help you find the perfect fit.