Also known as a security booth or guard hut, portable guard shacks are available in a variety of configurations, floor plans and styles.

Portable guard shacks offer an inexpensive and convenient alternative to new construction.
Having a portable guard booth on the premises is crucial in the case of businesses that frequently move from location to location, such as amusement park providers and construction companies.
They're also great for permanent structures such as military bases, prisons, manufacturing plants and more.
Our portable guard booths and attendant booths are available in a variety of models to suit your space constraints, security needs, budget and other concerns.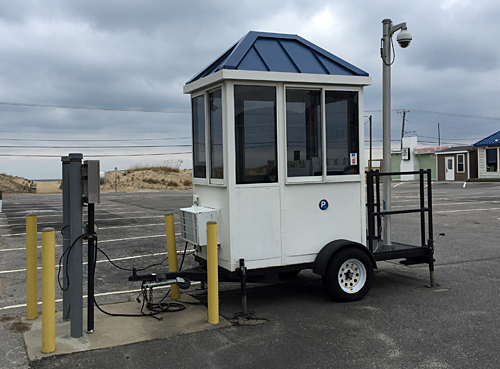 Crafted of heavy duty materials such as steel and even bullet resistant glass, portable guard shacks make an excellent addition to your job site.
Click below to get your quote on both rentals and purchases now. It's more affordable than you think!
Security Guard Houses, Parking Booths, Ticket Booths
Security, Parking, and Custom Designs. Access to  a huge line of fabricated guard shacks, prefabricated guard houses, and portable security booths.
Portable Guard Shacks For Rent
Guard Shacks For Sale
Security Guard Booths
Prefab Guard Booths

Guard booths can come fully equipped with shelving, HVAC,  electricity, and internet connections. Security Guard Booths available in all shapes, sizes and styles made and available for delivery anywhere in the United States.
Compare pricing on guard shacks from to top manufactures.
Portable Guard Shacks: Secure, Versatile, and Cost-Effective
Why Choose Portable Guard Shacks?
Portable guard shacks are designed to provide the ultimate security solution for various industries and businesses. These customizable, easy-to-install structures are perfect for temporary or permanent use, offering protection and surveillance for construction sites, parking lots, events, manufacturing plants, and more.
Uses of Portable Guard Shacks
Construction Sites: Keep your valuable equipment and supplies safe from theft and vandalism with our sturdy portable guard shacks.
Parking Lots: Monitor incoming and outgoing traffic, ensuring only authorized vehicles enter the premises and enhancing overall security.
Special Events: Create a controlled access point for attendees and staff while providing a secure environment for guests.
Manufacturing Plants: Enhance on-site security by adding a guard shack to monitor access and deter unauthorized entry.
Commercial and Residential Communities: Provide an extra layer of security for residents or employees with a guard shack at the entrance of your community or business park.
Affordable Pricing for Every Budget
Portable guard shacks come in various sizes and configurations, ensuring a solution for every budget. On average, guard shacks range from $5,000 to $25,000, depending on size and customization options. With competitive pricing, you can invest in a secure and cost-effective solution for your business or property.
Customization and Features
Portable guard shacks are designed with your specific needs in mind. Choose from a wide range of customization options, including:
Climate Control: Keep your guards comfortable with integrated heating and air conditioning systems.
Windows and Doors: Select from various window and door configurations to optimize visibility and access control.
Lighting: Ensure visibility during night hours with interior and exterior lighting options.
Electrical Outlets: Power your surveillance equipment, computers, and other devices with built-in electrical outlets.
Security Features: Equip your guard shack with advanced security features, such as bullet-resistant glass, access control systems, and security cameras.
Easy Installation and Relocation
Portable guard shacks are designed for quick and easy installation. With minimal site preparation, your guard shack can be up and running in no time. If your security needs change or you need to relocate your guard shack, the portable design allows for hassle-free transport and reinstallation.
Testimonials
"We needed a reliable security solution for our construction site, and the portable guard shack was the perfect fit. It was easy to install, and the customization options allowed us to create a secure environment tailored to our needs."
– John D., Construction Site Manager
"The portable guard shack has been a game-changer for our manufacturing facility. It provides an extra layer of security and peace of mind for our employees and visitors."
– Jane S., Facility Manager
Get Started with Your Portable Guard Shack Today
Don't wait to enhance your security and protect your assets. Contact our team of experts today to discuss your needs and find the perfect portable guard shack solution for your business or property.