Portable Guard Shack Prices
Does your company need a portable guard shack? They have many uses — you can learn how much they cost and where to get them, here.
When you have a business that moves, you cannot afford to be constantly building and tearing down permanent structures. Portable buildings solve the problem of needing structures that you can take with you.
Here's a sample of how much a portable guard shack will cost:
$2,680 8′ x 8′ Guard Shack.
$15,400  W 48-7/8, H 98 1/4, w/HVAC, Pre-Wired Guard Shack.
$9,309 Dimensions: 4′ x 3′ Security Booth. One Swing Door.
$2,300 Ticket or Valet Parking Booth

Thanks to clever engineers, portable guard shacks, in particular, come in a variety of sizes with several different amenities that fit your business's needs. Keep reading to learn about the varying cost and designs of a portable guard shack.
Why Invest in a Portable Guard Shack?
Portable buildings, in general, have come a long way. Crafty consumers create he-sheds and she-sheds for their own private uses. Some even use them to create a trendy tiny house.
If you have an area that needs guarding or an event that needs ticket taking, a portable guard shack will provide your volunteers or employees with a stable, warm, and well-ventilated area to do their job in comfort.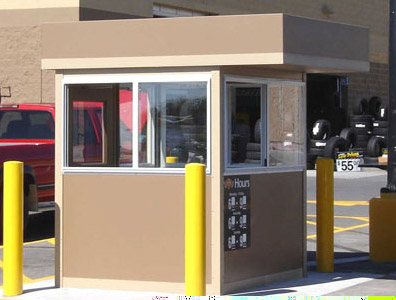 Plus, the guard shack is prefabricated, so when you're done with it, you can dismantle it until you need it for further uses.
Some companies will sell you a shack, and others will even rent them considering the transient nature of the shack.
Essentially, the portable guard shack is a temporary facility where security guards are stationed to watch over an area within a specific, limited time frame.
Organizations such as amusement parks and construction sites or even outdoor event coordinators benefit from portable guard shacks. Ticket booths, parking booths, cashier booths, and control booths can all come in handy with a portable guard shack.
The simple construction and relatively low cost of a shack make them an essential element for a business that does not stay in the same spot long.
How Much Do Portable Guard Shacks Cost?
The price of a shack varies greatly, depending on the size, amenities, and overall materials used for construction.
Because they're heavy-duty construction and not just a plywood shack, portable shacks cost minimally $2,000 each. Larger shacks with more options and amenities will cost you over $10,000, depending on the manufacturer.
Standard Cost For Guard Shacks:
$6,700 4′ x 4′ Pre Assembled and Shipped
$2,100 4′ x 4 'Used Security Booth – Indoor / Outdoor
$5,496 4′ x 6′ Parking Attendant / Ticket Booth
$75,000 Guard Building, Custom Assembly, Width (In.) 90, Length (In.) 228, Height (In.) 118
$20,500 8′ x 12'Guard House, One Swing Door – Security Booth, Welded Framing
$9,000 4′ x 3′ Pre-Assembled Buildings. options including heating, A.C. and
exhaust fans, and explosion proof electrical
systems.
If you do not have the cash set aside for a portable guard shack but still need the structure, many companies will rent a shack for as little as $200 to $500 a month, depending on your needs.
You have to remember, also, that when you buy a shack, the shack will go with you. You can pack it up and take it with you wherever your business may go.

Sizes of Portable Guard Shacks
Because events and needs vary, so do the sizes of a guard shack. Guard shacks come in a variety of sizes from a conservative 4×6 foot unit and up to an 8×20 until that could house multiple guards.
The 6×8, 8×10, and 8×20 are the most commonly purchased units, but a 3×4,4×6, 6×14, 8×8, 8×12 and 10×14 unit exists as well.
Larger units offer more options like an extra room for business or multiple windows and booths.
Really, the size options depend on the company from which you're purchasing the portable guard shack. A reputable company will offer you a variety of sizes, knowing that no one size fits every job.
Portable, Not Poorly Made
While manufacturers can assemble and tear down a portable guard shack quickly, they are not poorly crafted. Most shacks consist of heavy-duty materials like steel and wood. Some even come with bullet-resistant glass.
Portable building companies take their products seriously. If you need a guard shack, you're most likely guarding something precious and have the potential of aggressive individuals who would like to take that precious thing.
So bullet-resistant glass makes sense. Some companies will even offer ballistic options with extra safety for security officers. They will test their product with blast proofing and bulletproofing, reducing even the highest level of threats for those working in the booth.
You can keep your workers safe while not building a permanent structure when you have safety features like those that current shacks have.
Modern Amenities
Older models of guard shacks have one major problem: bathrooms, or rather, the lack of a bathroom. When a guard needs to go, he cannot afford to trek across a campus or parking lot to the nearest porta-potty.
Newer portable guard shacks now come with built-in bathrooms. Engineers and designers are thinking of portable guard shacks as less portable and more permanent with amenities like shelving, electricity, HVAC units, and even internet connections.
So your guard can have the necessary connections for processing tickets or scanning passes. The shack isn't just a shack anymore: it is an office.
Designers have also begun putting more than just a pane of glass and an open door area in portable guard shacks. They now have doors with options.
Sliding doors and swinging doors come on guard shacks. Additionally, some guard shacks come with insulated metal doors with fixed half glass, nine-light windows.
These shacks have standard knob lock and deadbolt doors with keyed entry.
If your space won't allow for the cumbersome swinging door, many booths come with sliding glass doors, up to a 6'x6'8″ door is available even.
Stay Secure Wherever You Are
If you own a mobile business that requires security or a ticket booth, consider the value of a portable guard shack.
Sturdy construction and high mobility mark these shacks along with a variety of amenities that make working in a small space comfortable. With air conditioning, windows, electricity, internet, and even a bathroom, you'll have all you need with your mobile shack.
To request a quote for a mobile guard shack, visit our website.