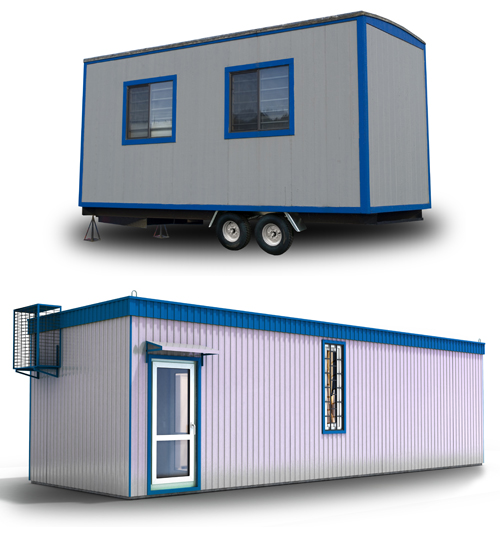 There are many reasons why one would need to rent portable rooms. Perhaps you're a contractor who moves from job site to job site, requiring a mobile area in which to conduct work. Maybe a school in your district is suffering from overcrowding and you need to add more classroom space to house more of your student body. Or perhaps you're a homeowner who will be hosting an exchange student this summer and need a temporary space for them to stay where they will feel included with the family yet get the privacy they need.
All of these are great reasons to rent a portable room. Rates are affordable on a monthly basis, with many available with a rent-to-own stipulation. This means you will get a chance to buy the room outright at the end of the term. Portable rooms can be mobile, pre-fabricated or modular. Many times, they're assembled mostly off site in the factory, then transferred to the site with just a few modifications needed. Other times, the walls and other components are brought to the site separately and constructed there.
Portable rooms for rent can be customized to fit your needs, outfitted with everything from wiring for electronics to plumbing for functional bathrooms. If you need your portable room to match the decor of your existing building or logo, that can be achieved as well. No matter what your needs, portable rooms are mobile, quick to assemble, affordable and aesthetically pleasing.
They also happen to be convenient and cost effective. The high costs of traditional ground-up construction can be a daunting consideration when adding space to your building or home. Also, construction is permanent, so you're stuck with the space you created forever. If your needs change in the future and you want to downsize, you can't (short of demolition, which is also quite costly).
Instead, when you opt for portable rooms, you get flexibility in knowing you don't have to utilize it forever, paying only for those months you need it. This is a more cost effective approach to room addition, with rates that fit easily into any budget. From cabins and offices to storage and guest houses, portable rooms for rent pose a workable solution to anyone in need of a mobile, temporary, and convenient addition of space.
Eager to learn more on how affordable portable rooms for rent are? Click below for a free quote!